Returning To The Magic: My Experience Visiting Walt Disney World® Resort During COVID-19
The Walt Disney World® Resort is my favorite vacation spot. I love everything about it! This summer I was scheduled to take my first Disney Cruise. It was of course, canceled due to COVID-19 before I could go. Just a few weeks ago, the opportunity presented itself for me to return to the magic of Walt Disney World and of course I didn't pass it up!
I am here to tell you that Walt Disney World is still magical and maybe even MORE MAGICAL! On this trip, I stayed in a Wilderness Cabin at Disney's Fort Wilderness Campground, and planned to visit all 4 theme parks. I'm excited to share my experience with you.
First thing every one asks me is about masks!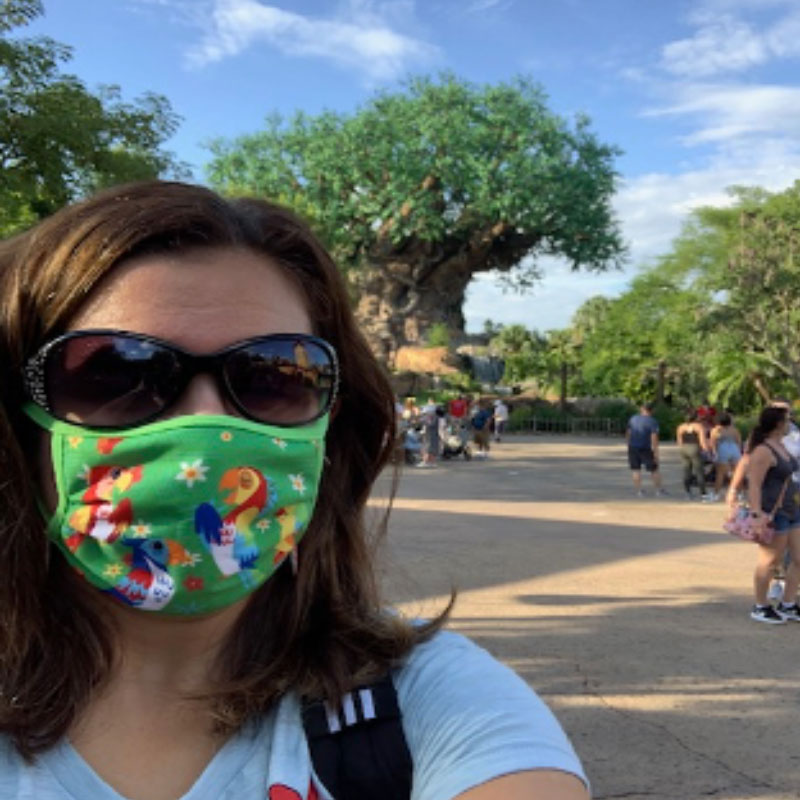 Visiting Disney's Animal Kingdom® Theme Park
Temperatures were in upper 80s with a real feel of almost 100 degrees. I made sure to bring with me various types and styles of face coverings to wear. I highly recommend doing that because when I was hot, I could switch to a fresh mask. Wearing a mask all day out in the heat was not too bad. Disney provides relaxation areas where you can sit safely without your mask on in the shade or air conditioning to take a break. Those were great for when we needed a break from the heat and sun!
Disney's rules require guests wear their mask at all times. You may only remove your mask while eating or drinking in a stationary location. This means that there is no eating or drinking while walking through the parks. To avoid dehydration, be sure to bring lots of water, or ask for free water from any quick service restaurant or snack stand with a soda fountain.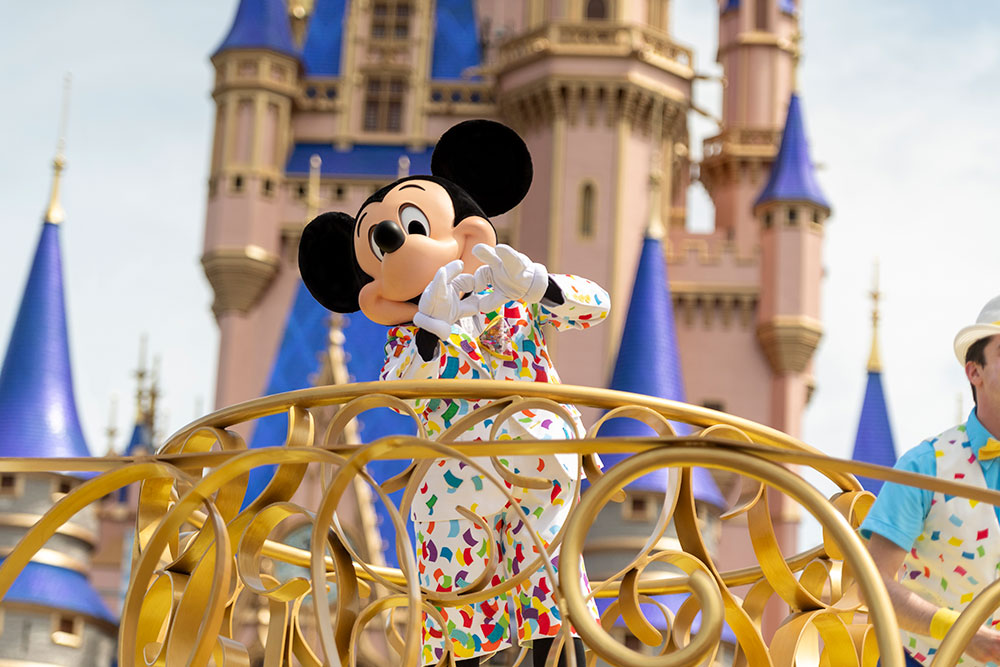 Character Cavalcade at Magic Kingdom® Park
Cast Members – they were AMAZING! They always are. That is the reason I continue to travel to Walt Disney World. Each person was so kind and provided lots of information on the changes. Cast Members are on hand to  direct you to temperature screening, bag check and how to enter the park. The are always available and smiling (under their mask, or course). Many Cast Members told us "thank you for coming back!"  and "we are so happy to see you!" They really made all of us feel special, even more than during past visits.
FastPass+ –  At this time there isn't FastPass+ service available, however due to decreased theme park capacity, you don't really need it. Most ride wait times posted were much less than the time it took to get on the ride. One wait time was listed as 60 minutes and I believe I timed it to be only 35-40 minutes. The lines may look very long, but that is only because of social distancing while waiting. Each attraction's queue line has markers that are spaced at least 6′ apart to show you where to stand while maintaining a safe distance from the party in front of you.
Tips for an incredible Walt Disney World® Resort vacation
Dining – You can start booking table service dining reservations at 60 days prior to your check-in, which is a change from the former 180 days. Other guests are frequently moving times or dining locations around so if you can't find what you're looking for at first, keep checking back (or have your Extra Magic Trips Vacation Planner check for you!). For quick service locations, it is asked that you use mobile ordering, which is a part of the My Disney Experience app. Once a credit card is linked to your account, it is as simple as choosing what you want to eat, paying, and picking up your order when you receive the notification.
Disney PhotoPass – The PhotoPass photographers are out in locations all over the park to capture your magic moments!  Please ensure you keep your mask on for these photos as they are not permitted to take your pictures without it. If you remove your mask while on a ride, you will not receive your on-ride photo, so ensure that your mask is on at all times. I was so excited to capture so many great magic shots!  The photographers take wonderful photos and are so fun to work with! If you are a photo fanatic like me, you can add Memory Maker to your vacation package, which allows you unlimited digital downloads of all of your PhotoPass photos for one low price.
Characters – Socially distanced character meet and greets provide an opportunity to see your favorites, just with a little distance. Characters can be found in some unique locations, like my photo below with Big Al from Country Bear Jamboree, who is out on a 2nd story balcony in Frontierland. I was seeing characters in places that I didn't even realize could be accessed! Be on the lookout for Character Cavalcades throughout the day in each of the 4 parks! You will be able to see your favorites and several different themed Cavalcades including holiday themes!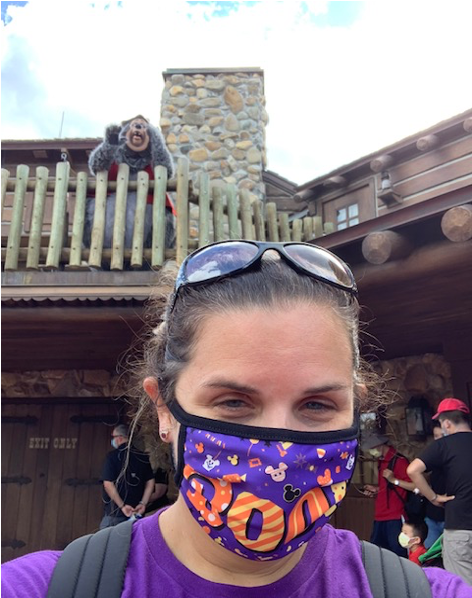 Keep a lookout for characters in unique locations – you never know where they'll be!
All in all, I had a truly MAGICAL experience on this short trip (as it is every visit to Walt Disney World)!
Disney has put so many safety precautions in to place. Hand sanitizer is everywhere, locations are cleaned frequently, dedicated Cast Members are on hand specializing in mask enforcement, and social distancing markers are used throughout the resort. Now is the perfect time to return to the parks, or go for the first time! Lighter crowds, special moments, the characters you love, and more! 
Request a quote from Extra Magic Trips today! We're standing by to help you plan your adventure! 
See Ya Real Soon!