Exciting Additions & Changes at Walt Disney World® Resort, Disneyland® Resort, and more!
The D23 Expo held at the Anaheim Convention Center in California is an annual treasure trove of news, events, and announcements straight from Disney executives. And this year's Expo was no different! At the 2017 Expo, several major announcements were made across many Disney properties, including the Walt Disney World® Resort in Florida, Disneyland® Resort in California, Disney Cruise Line, and more!
During the Walt Disney Parks and Resorts panel, one thing was clear – many big changes and new additions are in store in the coming 'ears'! While some of the initial details released were scarce, you can tell from the updates below that the Walt Disney World® Resort, Disneyland® Resort and the Disney Cruise Line will continue to evolve to bring you the best in family entertainment. A full listing of all of the updates can be found below!
A brief overview of some of the new additions.
Walt Disney World® Resort
---
Toy Story Land opens at Disney's Hollywood Studios® in summer 2018! Toy Story Land will feature two new themed attractions – Slinky Dog Dash, and Alien Swirling Saucers.
Mickey & Minnie's Runaway Railway will be the first ride-through attraction starring Mickey and Minnie! This new attraction at Disney's Hollywood Studios® will include an innovative new "2 1/2 D," no glasses required!
Star Wars: Galaxy's Edge is the official name for the new immersive land coming to Disney's Hollywood Studios®.  When this new land opens in 2019, it will include incredible new attractions that will completely immerse you in the Star Wars universe.
Another immersive Star Wars experience is coming in the form of a new resort hotel. This hotel will be different than anything you have ever experienced before, and will make you a citizen of the galaxy from the moment you arrive. Your visit will culminate in a special experience unique to each guest.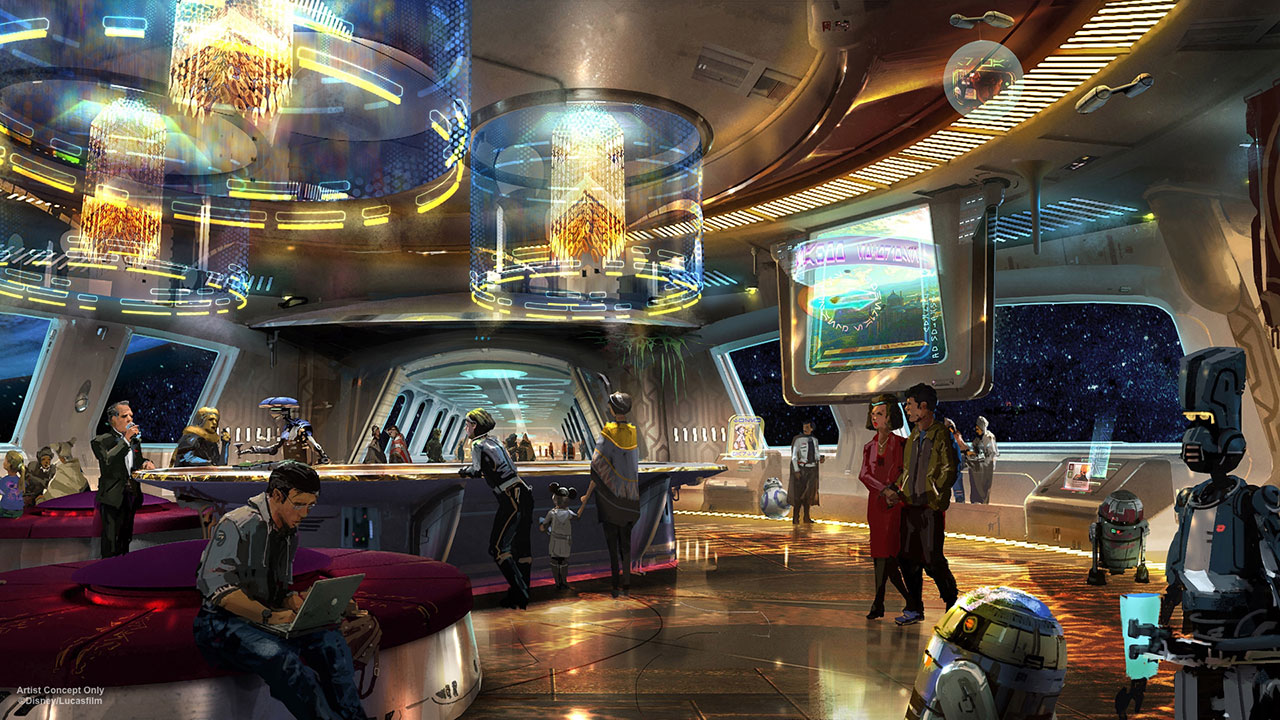 Star Wars-Inspired Themed Resort
Transportation around the resort is getting more convenient! Disney Skyliner – a new overhead gondola transportation system is being constructed to provide convenient access between Disney's Hollywood Studios®, Epcot®, and surrounding resort hotels. Minnie Vans will provide point-to-point vehicle transportation for guests looking to travel between hotels and other locations.
Two new attractions will be joining Epcot®! In Future World, a new Guardians of the Galaxy attraction will be based on the action-packed world of your favorite superheroes. In World Showcase, the France pavilion will become home to an attraction based on the Disney•Pixar movie Ratatouille, featuring everyone's favorite rat, Remy!
Epcot®'s expansive selection of table-service dining opportunities will grow in a far out way! This new restaurant, adjacent to Mission: SPACE, will provide diners with a vies from high above Earth. Travel into space for an unforgettable meal, without leaving Epcot®.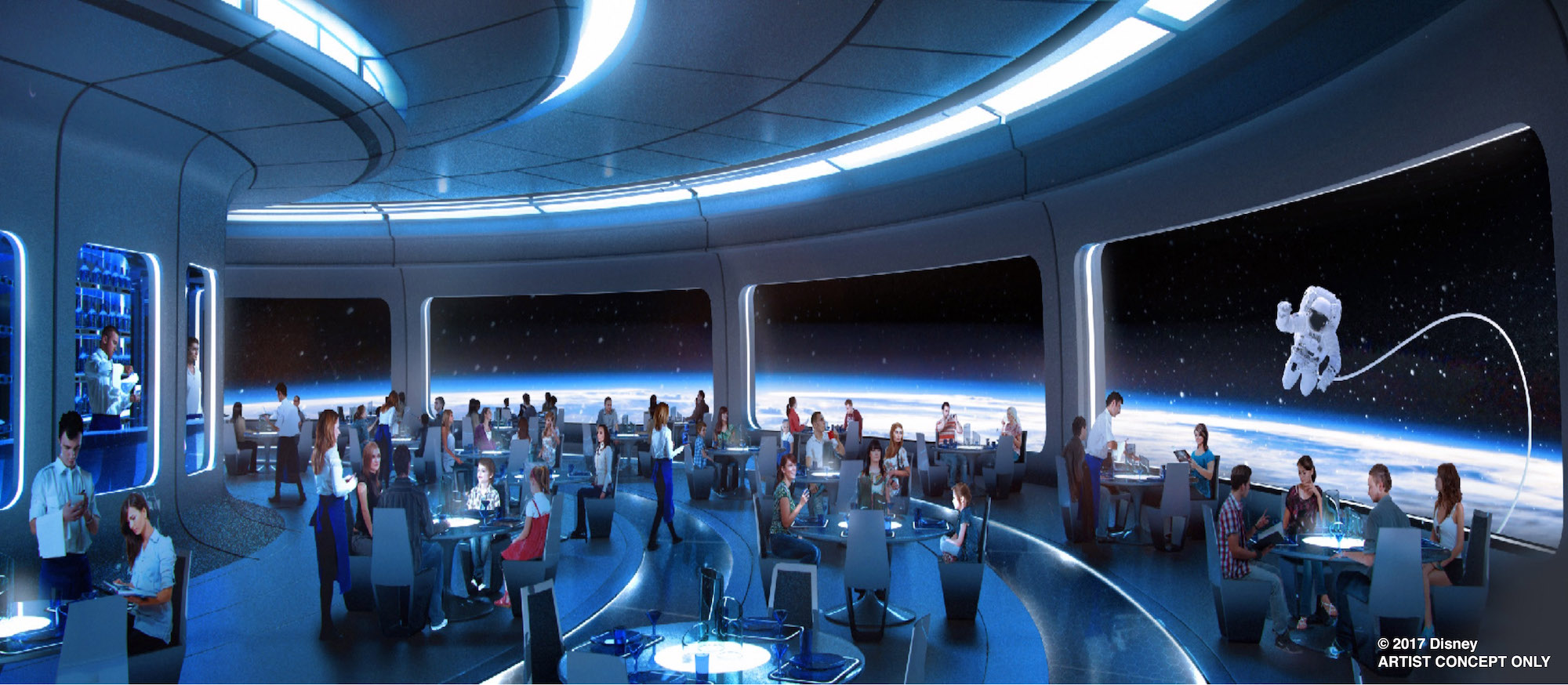 Epcot®'s new space-inspired restaurant
New shows and entertainment options are coming to Magic Kingdom® Park. A new theater, based on the iconic Willis Wood Theater in Kansas City, where Walt Disney lived for many years, is being constructed to house some new world-class entertainment.
Magic Kingdom® Park's Tomorrowland area is getting a new futuristic attraction straight from Shanghai Disney Resort. TRON Lightcycle Power Run will be a thrilling coaster-style ride inviting riders to board their own Lightcycle to go for a spin.
Many of these attractions are scheduled to open before the 50th anniversary of the Walt Disney World® Resort in 2021! Your Extra Magic Trips vacation planner can provide you more information as details are released!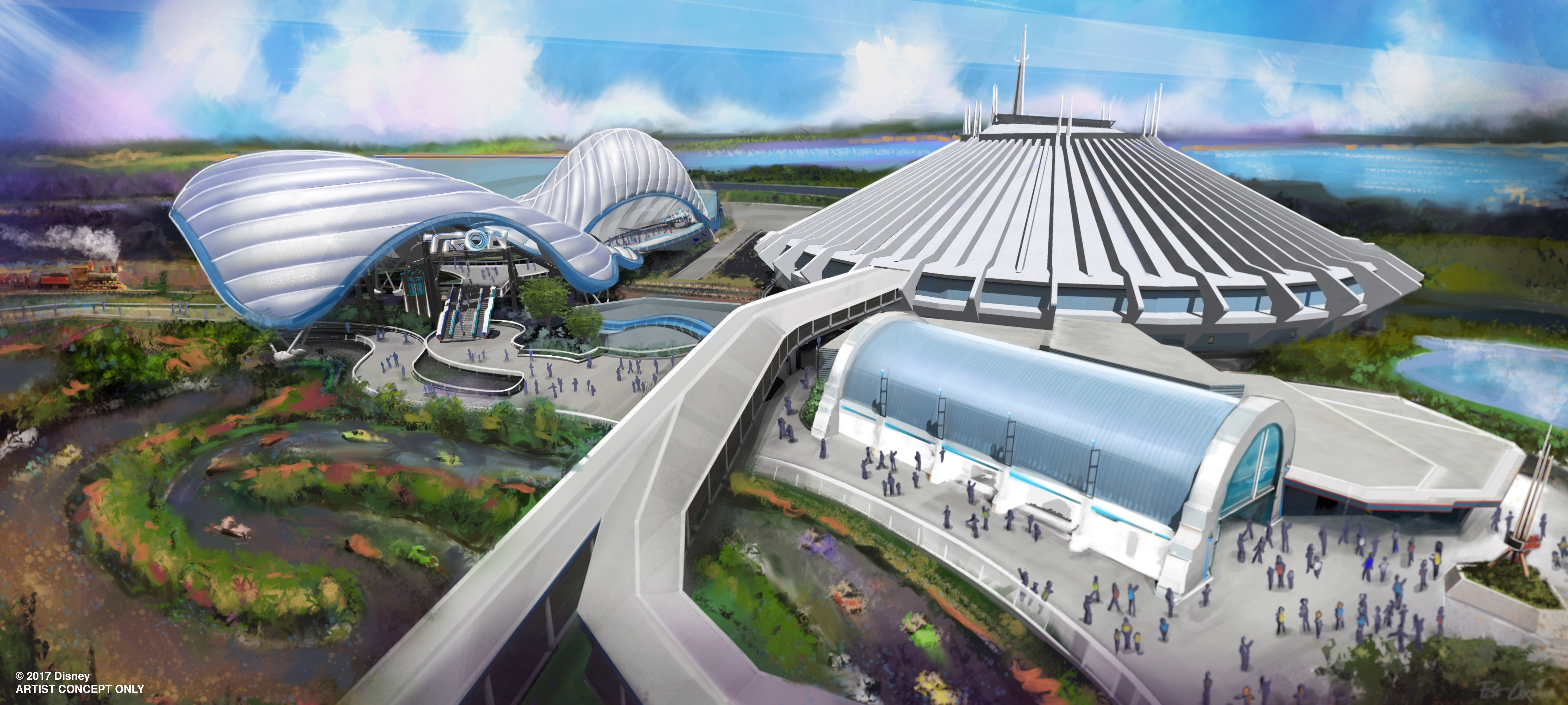 TRON Lightcycle Power Ride
Disneyland® Resort
---
The Guardians of the Galaxy, which started breaking out of Disney California Adventure® Park this summer, will soon be joined by Spider-Man and The Avengers! The Super Heros will combine to create a super immersive Super Hero universe at the park.
More of your favorite Pixar friends are moving in to Disney California Adventure® Park. Pixar Pier will feature a brand new look for the area currently known as Paradise Pier, and kick off the Pixar Fest, coming to Disneyland® Resort in 2018.
Pixar Fest, a limited-time event at Disneyland® Resort will include special experiences at both theme parks! A brand new limited-time fireworks spectacular, as well as the return of the Pixar Play Parade will be the cornerstones of this event.
The popular Paint The Night Parade will return in 2018, but this time it will move to Disney California Adventure® Park. There will even be a new float added to this unique nighttime experience!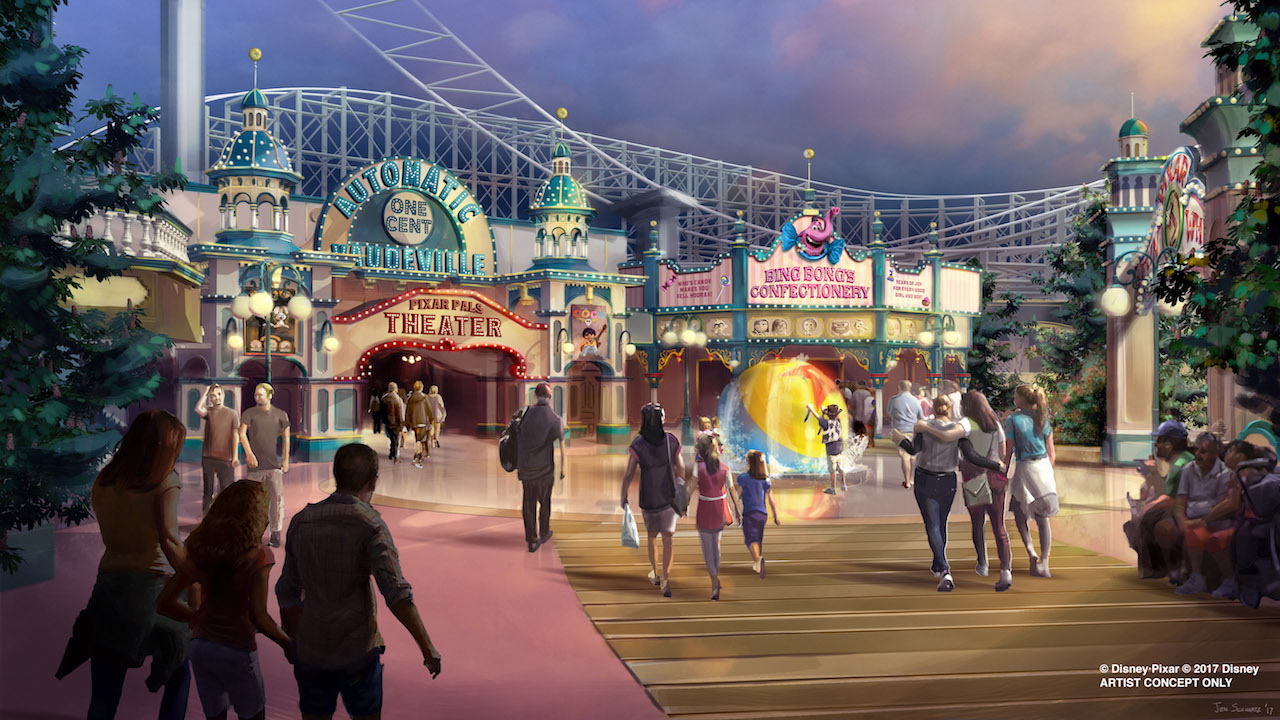 Pixar Pier at Disney California Adventure® Park
Disney Cruise Line
---
Last year, Disney announced plans to add two additional ships to their lineup. Now, they have announced that they will actually be adding three new ships, nearly doubling the size of their current fleet! The new ships are set to have their maiden voayges in 2021, 2022, and 2023.
Disneyland Paris
---
Your favorite Marvel characters will be checking in to a new home at Disneyland Paris. Disney's Hotel New York – The Art of Marvel will reimagine the current hotel into an exciting hotel featuring Iron Man, Spider-Man, The Avengers, and more!
As you can see, these next few years will be full of exciting change for Disney parks worldwide!
Ready to plan a trip to see all of these exciting new developments, and the classic favorites? Request a quote today to get started!
What are you most excited for? Let us know in the comments below.
Ready to plan your trip?
If you're ready to start planning your trip, head over to our Quote Request form to provide us with the information that we need to create a custom vacation for you!