Dreams come true at the Bibbidi Bobbidi Boutique
The Bibbidi Bobbidi Boutique has easily become one of my favorite extra magic touches we do for our girls on trips to the Walt Disney World® Resort. Although it may be dreadfully difficult to spell, the experience is worth its weight in gold! I usually hesitate to say things are 100% worth it, since all guests have different expectations. In this case, however you can't go wrong if your child loves princesses, makeup, and over-the-top hair styles!
The Bibbidi Bobbidi Boutique (BBB for short) has two different locations – one in Cinderella Castle inside the Magic Kingdom® Park, and one at Disney Springs™. We've only ever visited the Cinderella Castle location, so this post will focus on the experiences there.
I prefer to schedule the appointment for 8:00 am – you get in and out before the Magic Kingdom® Park opens to guests. When you arrive, your child is whisked away by a Fairy Godmother in Training so the makeover can begin.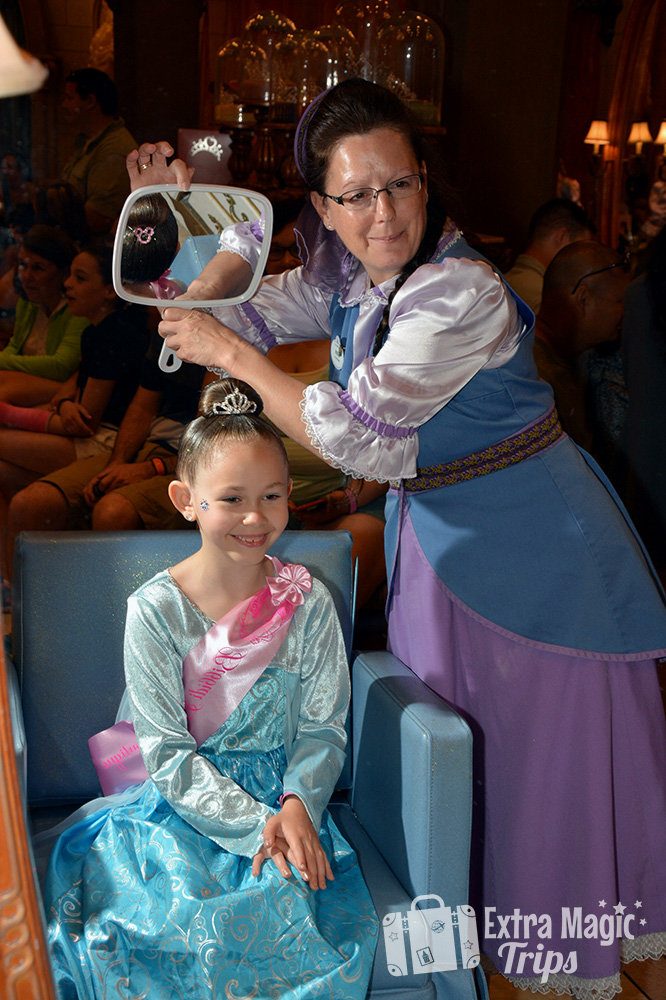 The magical Bibbidi Bobbidi Boutique reveal.
Your child is treated like royalty! First they pick a hairstyle. This part makes me the most nervous. The options are Fairytale Princess, Disney Diva, Pop Princess and Color Star. The styles range from slick and sophisticated, to crazy rainbow hair extensions.
I bite my nails while my daughters look at all of the options, mentally pleading with them to keep it simple and not reminiscent of Jem and the Holograms (I'm a child of the 80s, give me a break!). The Fairy Godmother in Training then gets to work on your child's hair. WARNING: There is a lot of gel…just be okay with it…but there's a lot! Don't forget the very light makeup and nail polish!!!
Throughout the 30-45 minute process a PhotoPass photographer stops by and snaps some great shots – including the magical moment when the princess sees her makeover for the first time. After the makeover is complete you can head over to Castle Couture, the shop just behind the castle to the left and have a special photo shoot. I highly recommend this if you have Memory Maker. If you're lucky, Cinderella's Fairy Godmother may just join you!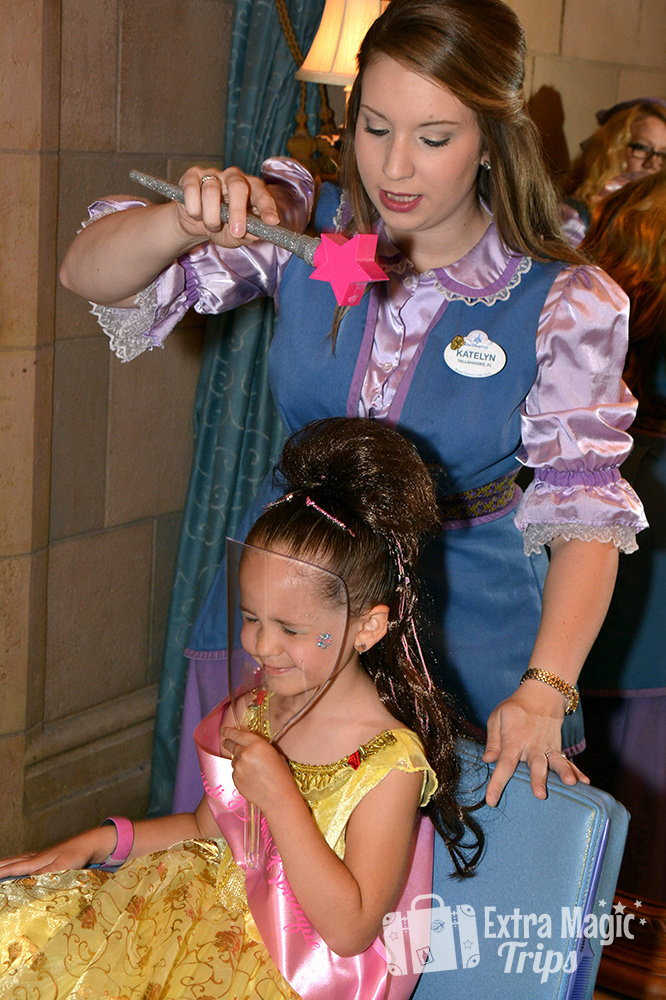 Don't forget the pixie dust at the Bibbidi Bobbidi Boutique!
For the remainder of the day cast members will go out of their way to treat your little princess extra special. They may even bow or curtsy. This is where Disney truly shines, you won't believe how special they will make her feel!
There are three packages to choose from. I have always opted for the Crown Package which includes the hairstyle of her choice, shimmering make-up and face gem, nail polish, sash and tote.  When choosing this package, I recommend dressing your child in their favorite costume before you arrive.
Costumes are available for purchase at the Bibbidi Bobbidi Boutique, but they can be fairly expensive and they tend to be less than comfortable. For the last few trips we pre-purchased costumes from Mom Approved Costumes. My daughters are very sensitive to scratchy clothing, and their costumes are soft and washable! So go ahead and let her eat the Mickey Premium Bar!
Pretty as a Princess at the Bibbidi Bobbidi Boutique